Advanced Seminar / Hauptseminar WS17
The Advanced Seminar will focus on Security Aspects of  Face Recognition Systems:
Face recognition represents a longstanding field of research and a variety of methods have been proposed over the past three decades [1][2]. In past years, researchers have pointed out diverse potential vulnerabilities of face recognition systems. Recently, attacks on face recognition systems based on morphed biometric images have been presented [3]. Morphing techniques can be used to create artificial biometric samples, which resemble the biometric information of two (or more) individuals in image and feature domain.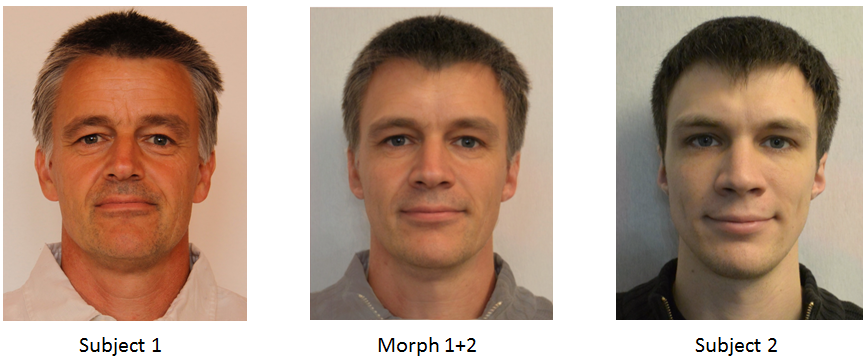 Such attacks pose severe security threats to biometric systems, in particular to the issuance and verification process of electronic travel documents [3]: black-listed criminal offenders can use an authentic passport complying with all physical safety features to enter a country with the identity of an accomplice when performing three basic steps: (1) find a rather lookalike accomplice, (2) morph passport face photos of both, possibly utilizing free software available on the internet, and (3) the accomplice applies for a passport; the passport manufacturer will then issue an authentic passport equipped with the morphed biometric information and other identity attributes of the accomplice, which can be used to enter a country by both subjects. Different commercial face recognition systems have been found to be highly vulnerable to this type of attack.

The seminar will focus on different aspects of this type of attack.
Kick-off meeting:
The kick-off of the seminar will take place on the 17.10. at 17:45 in room D19/203a.
Seminar procedure:
The seminar will have only few fixed class meetings. Besides these meetings, additional appointments shall be arranged individually and on demand.
Each group's term paper has to be prepared using IEEE conference template with a length of 6-8 pages without references and clear marked appendices (survey topics are required to be 8-10 pages). The final presentation will be 45 minutes per group + 15 minutes discussion of the results. A grade will be given based on the term paper and final presentation as defined in the module description.
According to OBS, the course capacity is 12 seats. Eventually, additional seats can be offered. If you don't get a seat in the allocation period, please join the kickoff and ask for an additional seat. If you got allocated a seat but can't join the kickoff, please get in touch with me by email before the kickoff. Otherwise, your seat will be revoked.
Topics:
Student groups (1-2 persons) may select their own topic or choose a given topic. A detailed overview of listed topics will be provided in the kick-off meeting. Assignment of topics to student groups will be decided in the kick-off meeting.
Literature:
[1] W. Zhao, R. Chellappa, P. J. Phillips, and A. Rosenfeld, "Face recognition: A literature survey," ACM Comput. Surveys, vol. 35, no. 4, pp. 399–458, 2003.
[2] S. Z. Li and A. K. Jain, Handbook of Face Recognition (2nd edition). Springer, 2011.
[3] M. Ferrara, A. Franco, and D. Maltoni. The magic passport. In Proc. Int. Joint Conf. on Biometrics (IJCB), pages 1–7, 2014.
[4] M. Ferrara, A. Franco, and D. Maltoni. On the effects of image alterations on face recognition accuracy. In T. Bourlai, editor, Face Recognition Across the Imaging Spectrum, pages 195–222. Springer International Publishing, 2016.
[5] U. Scherhag, A. Nautsch, C. Rathgeb, M. Gomez-Barrero, R. Veldhuis, L. Spreeuwers, M. Schils, D. Maltoni, P. Grother, S. Marcel, R. Breithaupt, R. Raghavendra, and C. Busch. Biometric systems under morphing attacks: Assessment of morphing techniques and vulnerability reporting. In Int. Conf. of the Biometrics Special Interest Group (BIOSIG), pages 1–12, 2017.